Site Information
| | |
| --- | --- |
| Landmark Number: | 298 |
| Location: | Empire Mine State Historic Park, 10791 Empire Street, Grass Valley, Nevada County |
| Marker Plaque: | one or more plaques placed by civic organizations or other groups |
Description
From California Historical Landmarks:
The Empire Mine was originally located by George D. Roberts in October 1850. In the spring of 1854, the Empire Mining Company was incorporated and in 1865 new works, including a 30-stamp mill, were erected. In 1869 Wm. B. Bourn, Sr. purchased the Empire, when he died, Wm. B. Bourn, Jr. took over its management. The Empire was in constant operation from 1850 to the late 1950s.
This site is now the Empire Mine State Historic Park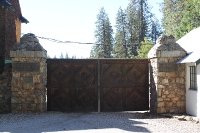 Large entrance gates with marker plaques.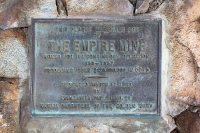 Marker plaque.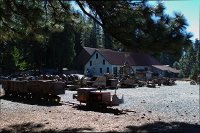 Yard with mining equipment.

Map
Location and Vicinity Map
Detail Map
View larger map on OpenStreetMap or Google Maps