Site Information
Roadside Marker Near The Adobe's Former Location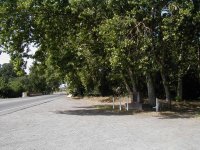 | | |
| --- | --- |
| Landmark Number: | 345 |
| Location: | Old Highway 99 at Hambright Creek, 1 mile north of Orland, Glenn County |
| Marker Plaque: | one or more plaques placed by civic organizations or other groups |
Description
The Swift Adobe was the first house in built in Glenn County.

From California Historic Landmarks:
Granville P. Swift crossed the plains to Oregon in 1843 and entered California with the Kelsey party in 1844. In 1849, in partnership with Frank Sears, he purchased the cattle and brand of the Larkin grant from J.S. Williams. Swift soon had droves of cattle herded by Indian vaqueros, and rodeos were held annually at this adobe site.
The adobe was located about 150 yards upstream of the marker.
Map
Location and Vicinity Map
Detail Map
View larger map on OpenStreetMap or Google Maps