Site Information
Outlet Gates Looking Upstream From Highway 89 Bridge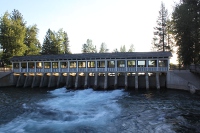 | | |
| --- | --- |
| Landmark Number: | 797 |
| Location: | 73 N Lake Blvd (Highway 89), Tahoe City, Placer County |
| Marker Plaque: | Official State Plaque |
Description
Built on the site of Lake Tahoe's natural outlet, these gates were constructed to control the flow of water into the Truckee River.

From the California Historical Landmarks:
Conflicting control of these gates, first built in 1870, resulted in the two-decade 'Tahoe Water War' between lakeshore owners and downstream Truckee River water users. The dispute was settled in 1910-11 when techniques for determining water content in snow, developed by Dr. James E. Church, Jr., made possible the accurate prediction and control of the seasonal rise in lake and river levels.
Map
Location and Vicinity Map
Detail Map
View larger map on OpenStreetMap or Google Maps