Site Information
Official Marker Plaque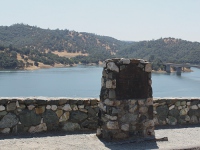 | | |
| --- | --- |
| Landmark Number: | 276 |
| Location: | Vista point on State Highway 49, 5.4 miles south of Angels Camp , Calaveras County |
| Marker Plaque: | Official State Plaque |
Description
From the State Office of Historic Preservation web site:
In 1848 John W. Robinson and Stephen Mead established ferry transport for freight, animals and persons across river. In 1856 Harvey Wood purchased interest and later acquired property which was maintained by Wood Family until 1911. Charges were 50 cents for each passenger, horse, jenny or other animal.
The portion of the Stanilaus River served by the ferry is now inundated by the New Melones Reservoir.
Map
Location and Vicinity Map
Detail Map
View larger map on OpenStreetMap or Google Maps