Kleine Scheidegg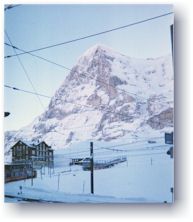 The Eiger
Kleine Scheidegg is the end of the line for cog railway that skiers take, but you can take another train that runs through the Eiger and up to the top of the Jungfrau.
In addition to the train station, there are a couple of hotels and cafes.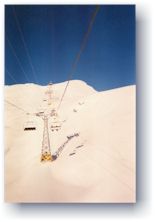 Much of the skiing is above the tree line. This short chair lift runs up from Kleine Scheidegg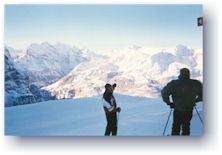 Juan points to the Alps, says they are very beautiful, and that I should take a picture of them. Little does Juan know that my trusty instamatic camera won't do them justice. I smile and take the picture.
We zigged and zagged into the valley in front of Juan and continued down into Wengen.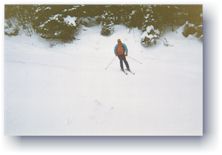 My father rounding a turn on the long intermediate run down through the trees from Kleine Scheidegg to Grund. At Grund you can catch the train back up to Kleine Scheidegg or over to Grundelwald.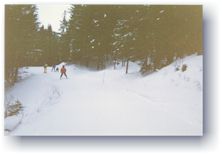 A couple of shots of the run down from Kleine Scheidegg to Grund.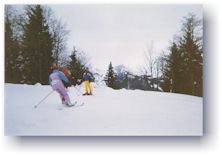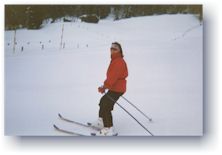 Rose was skiing along peacefully through the Swiss countryside, until some somebody came flying by and snapped her photo.




Another skier falls victim to the skiing instamatic!
(Looking good, Dad)


© 1999 Thomas Brightbill