Männlichen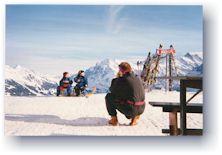 One day we were at the top of Männlichen first thing in the morning and stopped for coffee. This lady and her two small children were sitting at the outside table. She was having a cup of coffee and the kids were sharing an incredible looking piece of chocolate cake. When we went in for coffee, everyone in our group had a piece of cake. One does not attend Ski Swiss merely to ski!

When we come back out, the lady was collecting up her kids for a picture. A split second after I snapped this shot, one of them decided that he really didn't want to be sitting on the sled with his sibling and would rather be with Mom. No amount of pleading would calm him, so I think she only got a shot of one of the kids on the sled.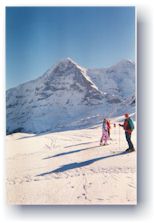 Here we were skiing from Männlichen over to Kleine Scheidegg and stopped to rest for a moment.
Dad, Beverly, and Rose in the foreground. The Eiger in the background.


Grund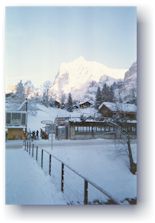 The train station at Grund is a welcome sight after a long day of skiing. There is a little cafe on the roof of the building at the right, and I think that's the Schreckhorn looming in the background.




Here I've made it safely down to Grund after a hard day of skiing and decided to pose with a Bernese Mountain dog who was chained up outside the cafe at the train station.

Switzerland is a very dog friendly place. Dogs on the trains, in the shops and cafes...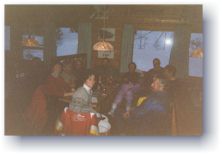 Some of the group relaxes inside the cafe at Grund while waiting for the train back to Grindelwald.


© 1999 Thomas Brightbill